My daughter is getting married.  Here is what happened when she told me-
Daughter:  I'm getting married!
Mom:  That's so awesome! Now what do we do?
Daughter:  I don't know.
Mom:  Me neither.  How about elope?
Daughter: No, I  don't think so.
Mom:  Oh my god, you mean I have to dress up?  What will your Father wear?  I don't know how to put together a wedding!  Can we have chocolate cake?  Do I have to wear high heels?  I'm not wearing makeup!  Can we have a candy bar?  Wouldn't if be fun if we all dressed like circus performers!  Oh god, were am I going to get a circus performer type outfit?
 Daughter:  No Mom, no circus outfits.  Could you just design our invitations?
Mom:  Yes. . . Yes I can.
FRONT –
INSIDE –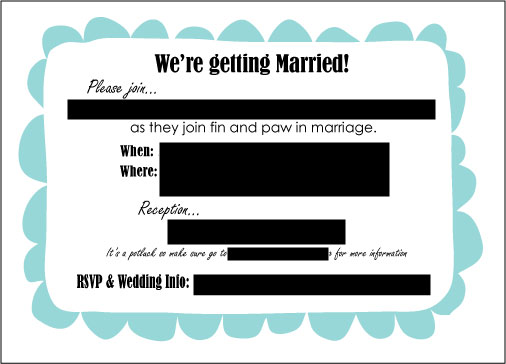 I put, "as they join fin and paw in marriage"in the announcement as a joke, but my daughter and her fiance both liked it, so it sayed.