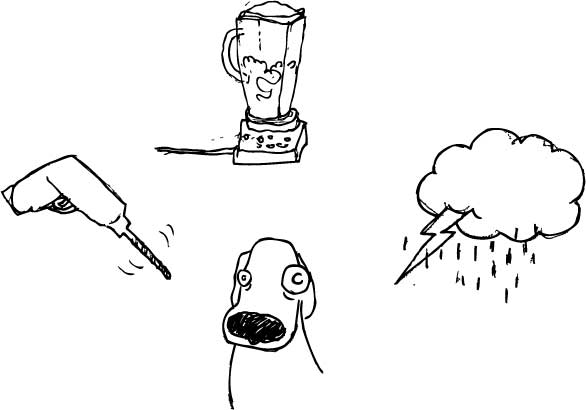 Let me start by saying that my dog is actually scared of more than three things.  He  is freaky about brooms, weather (rain, wind, thunder, lightning), bubble wrap,  power tools, blenders, hair shears, any beeping coming from a computer, crowds, and the list goes on.  But, there three phobias that I feel define my dog. 
First, Cats in a Box.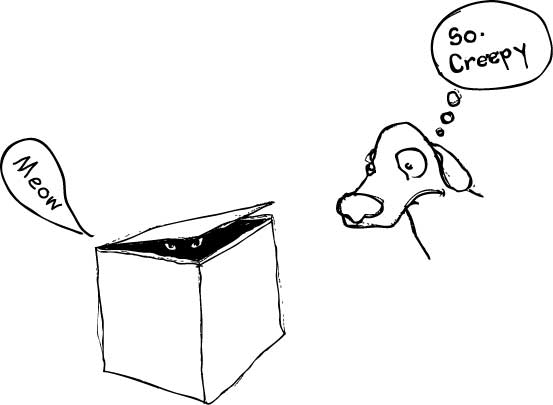 My dog is not scared of cats or boxes, but he is scared of cats in boxes.  If you open the box to expose the cat he will look past the cat and search the inside of the box for the "thing that was scary".    This fear can be transferred to cats in cupboards, behind doors or under blankets.  But a cat in a box is the worst.
Second, Dead Rabbits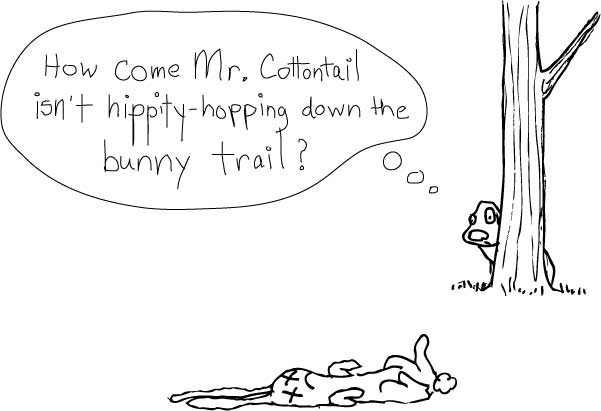 We found a dead rabbit while hiking one day.  Most dogs might consider a dead rabbit a great toy.  Other dogs might want to roll around on it (especially if it's gooey).   My dog's reaction was his hackles going up and his eyes getting very large.  He was visibly shaken.  I tried to show him that it was okay by poking it with a stick.  All this did was make him shake in terror and put his tail between his legs.  To relieve his terror we continued our hike.  As we walked he kept glancing over his shoulder just to make sure that the rabbit didn't become reanimated, or something, and follow us. 
Third, Camping.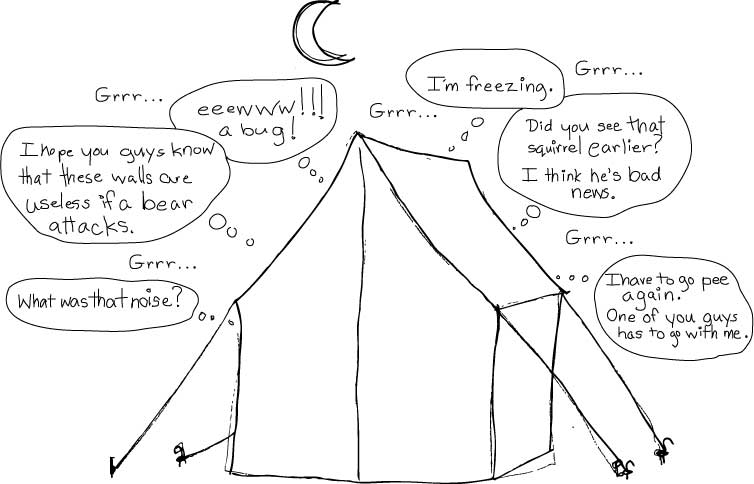 I thought dogs liked camping.
From the moment we pitched the tent he was giving us a look that said, "Well, that was great.  Can we go home now?"  This look is accompanied by waiting eagerly by the car door.  To be fair, when I first got him out of the car a squirrel crawled down a tree that was behind us and proceeded to yell at my dog and I.  (A squirrel yell is something like a mighty screech).  After I had taken my boy to do his poops and got back to camp, my daughter stated that as she was setting up camp a squirrel came down a tree and yelled at her.  It was funny until my husband came over from getting wood and said that the weirdest thing happened.  A squirrel came down a tree and yelled at him.  I suspect it was the same squirrel in each case.  We stayed on guard the rest of the day. 
The rest of the trip was uneventful.  No squirrel incidents.  But the dog remained shaken.   
As we returned from camping and turned up our street my dog perked up, stood up on his hind legs, stared out all the windows and screamed.  I am NOT kidding.  He actually screamed!  He was home.  He knows his street and his house.  I think that he thought that camping was how we were going to spend the rest of our lives.  I can't seem to explain to him the concept of vacations.
Note:  If you have any trouble viewing the drawings just click on them to get them at full size.