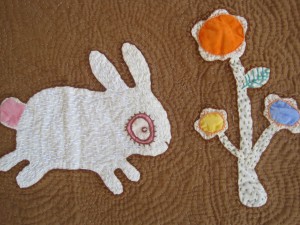 Drum roll please…..
For the first time I am selling some of my quilts!   The first one I'm listing is this Hopping Rabbit Folk Art Quilt.  It's  entirely hand sewn, cotton fabric and cotton batting.  It measures 13″ x26″
It's for sale at my Etsy store:  http://www.etsy.com/listing/84867289/hopping-rabbit-folk-art-quilt
This is a one of a kind quilt.