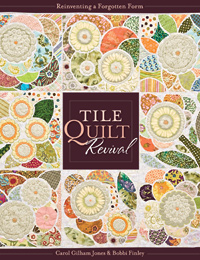 On my trip to Texas I was able to spend some little time exploring the town of Las Cruce, NM.  I stopped by a cool quilt shop called Organ Mountain Quilt Shop.  I bought a bunch of fabric and a book called,  Tile Quilt Revival: Reinventing a Forgotten Form, by Carol Gilham Jones and Bobbi Finley.  The beautiful quilt on the cover is what caught my eye.  
  Tile Quilt Revival book gives a nice history of this rare type of quilt.  The instructions on how to create your own tile quilt is very clear and quite easy.  And, to my extreme excitement, this quilt is best done by hand!  EEEEEkkkkkk!
So, to sum up this book,  wonderful and easy techique,  interesting history, beautiful patterns included, hand work prefered.