Archive for the 'Classes' Category
Wednesday, December 5th, 2012
Sunday, February 8th, 2009
The first 5 month class in quilting is over.  I getting ready to start the next session on  March 7th.  I thought I would share with you how some of the the students are doing.  I forgot my camera on the the last day of class.   Luckly one of the students, Lee, was able to use her phone's camera to get these images.  Not all the students are represented here. Some people where missing in action since there are a lot a bugs going around. 
Starting March 7th and then every first Saturday of the month I will have Art Quilt classes (10-1:00) and Hand Embroidery Classes (1:30 to 3:30) on the same day.  I am using my students work as bait to lure you in. Let me know if it is working. 
I would love to take totally credit on how wonderful these quilts are turning out, but Lori, Lee, Allison and Renate' would kill me.  I mean it,  they are a rough crowd. 
  This whimsical cat quilt is by Lori.  First Art quilt ever!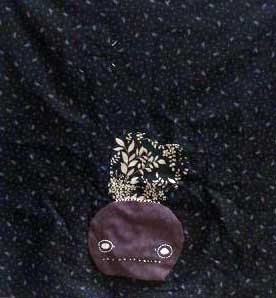 The ever dark and disturbed Renate' is into haunted vegetables.  This is the beginning of a poltergeist radish quilt.  Feel the Evil.
  Lee's cheery little bird looks like the song, Walking on Sunshine, is playing in it's head.  I wish I had a detailed image.  The embroidery is amazing!
If you are interested in me taking credit for your art quilts or taking classes please contact Quilters Paradise, 760 738-9677 or check out their website:  http://www.quiltersparadiseesc.com/(7http://www.quiltersparadiseesc.com/60) 738-967760) 738-96770) 738-9677
Monday, February 2nd, 2009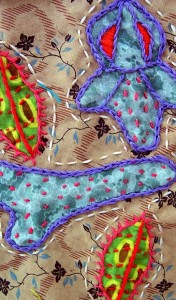 I have some new classes starting up.  The first one is Expressing Yourself in Art Quilts.  This class is tailored to suit each students needs to get them started creating art quilts.  This is also a great class for people that have done art quilts, or have quilting skills, but want a group to bounce ideas off of,  learn new techiques, and learn tricks to keep the creative juices flowing.
The second class is still getting organized.  It is a How to do Hand Embroidery classs.  Yes, you to can become one of the masses that embroiders the heck out of everything!
The classes are in Escondido, CA, at Quilter's Paradise.  Here is the link to go right to the Expressing Yourself in Art Quilts link:  http://www.quiltersparadiseesc.com/Classes/Expressing%20Yourself%20with%20Art%20Quilts.php
Here is Quilter's Paradise's link: http://www.quiltersparadiseesc.com/index.php
Also, here  pictures of my dog.