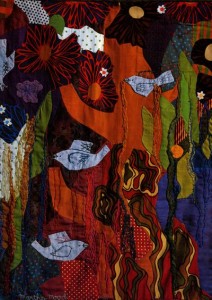 I was up in Monterey, Ca, this last weekend.  I visited the local library and found a book about a fiber artist I had never heard of. 
Her name is Martha Mood.   I actually don't know that much about her since I spent more time looking over her amazing art than reading her bio.
She was a sculpter and a weaver.  But, she was best known for her fiber tapestries.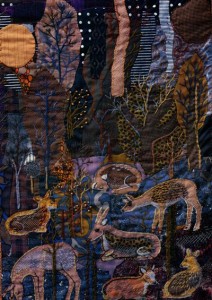 After looking them over in detail I believe that they are made up  with appliqued fabric and embroidery.  Her embroidery is painterly.  Her applique techniques appear to be needle turned and raw edge.  The over all impression of her work is loose and alive.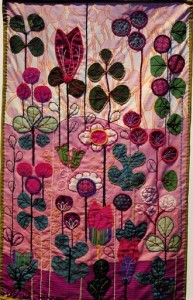 I wasn't able to find many images of her work.  But I did notice some of her work at different auction houses.  There is a book about her called, The Sublime Heritage of Martha Mood: The Story of Martha Mood, her Stitcheries, and the Tapestries Woven From Her Stitchery Designs (Volume I).  This book is out of print but you never know when a used copy will show up on Amazon.