You know, you guys have put up with a lot from me over the years.  First, there was Oil-Painting Andrea, then Craft-Girl Andrea, Stupid-Story Andrea and now Children's-Book-Illustrator Andrea.  What can I say?  I wear many hats and some of my hats are wee pointy things with glitter on them, but I digress.  I vaguely remember promising to give you, my loyal minions, a new free pattern every month (what was I thinking?) and that seems to have disappeared into the Bermuda Triangle of my life.
But guess what!  A free pattern has snuck in! Right under my nose too (it's probably because of me having a cold).   And it's topical!  That's right, it is!  It's an Easter Bunny.  Can't you just image him hippity hopping into your house on Easter night and depositing his eggs?  Oh the joy.
So go ahead and have your way with him.  Make me proud!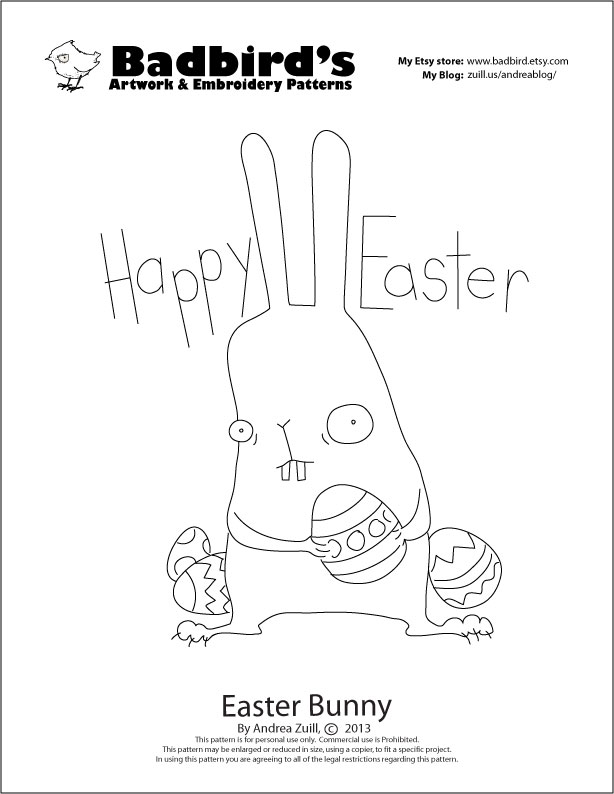 You can click on the pattern above for a large view.
Tags: andrea zuill, badbird, cartoon, craft, drawing, Easter, easter bunny, easter bunny pattern, easter eggs, Embroidery, etsy, free, free easter bunny pattern, free pattern, happy easter, illustration, pattern, SCBWI, sew, society of children's book writers and illustrators, stitch, zuill