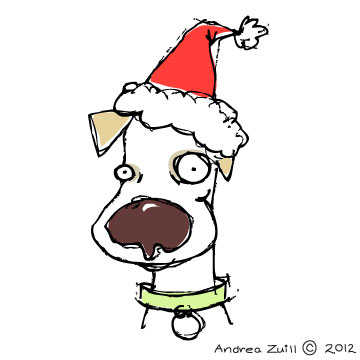 Our dog is a Christmas dog. We try to hold off letting him know that it's holiday time because he can get  intense.

Every year he gets the same three presents.  A large hard plastic ball w/ holes cut into it to reveal yet another ball inside, a small throwing ball, and a hedgehog that snorts and squeaks.
He has acquired the knowledge that during the holiday season people buy presents that they carry in shopping bags decorated for Christmas.  He also believes that the odds are in his favor that the shopping bags carried by strangers might contain a present for him .  It's a number's thing.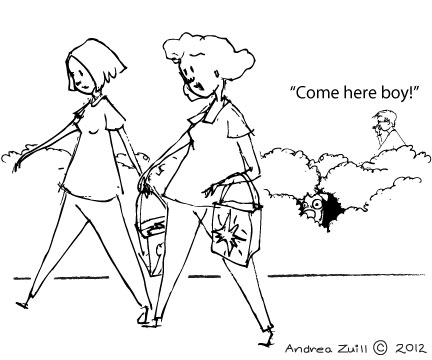 Unfortunately, one of our favorite parks to walk in is next to a mall.  There was a "incident" with my dog and some teens carrying home their Christmas shopping.  Luckily they got off with just a Nose mugging. (major sniffing)
My dog thinks that babies are boring.  He has no interest in them until Christmas because, let's face it, stealing a present from a baby is like stealing candy from a baby.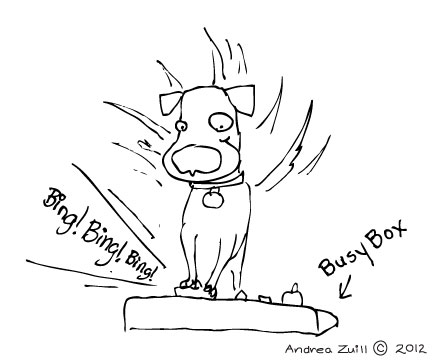 And babies don't  know how to play with a Busy Box properly. (I got him a Simon Game from a thrift store one year.  He loved it until it broke in about 10 minutes.)
On Christmas morning we have to make sure that our furry boy gets one of his presents first.  Otherwise we have a lot of whining and nose pushing.  His technique for opening a present is almost surgical.  He really would rather not tear the paper.  I'd like to believe that he appreciates the effort we took to wrap him a pretty package.
Since he doesn't like destroying the wrapping paper, if a present is too difficult to open he will whine until we start it for him.
Once his presents are open he is in doggy heaven with the same 3 toys we have gotten him almost every year.  We have tried other toys and snacks too, but apparently they were yucky.
For at least an hour on Christmas morning we have this (see below).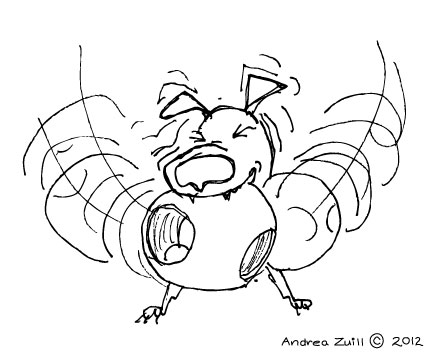 Like I said, he's in doggy heaven.
Tags: andrea zuill, Art, artist, badbird, bog, bow, busy box, cartoon, christmas, dog, drawing, etsy, gifts, holiday, illustration, ink, ink drawing, park, presents, print, puppy, santa, santa claus, season, story, whine, zuill