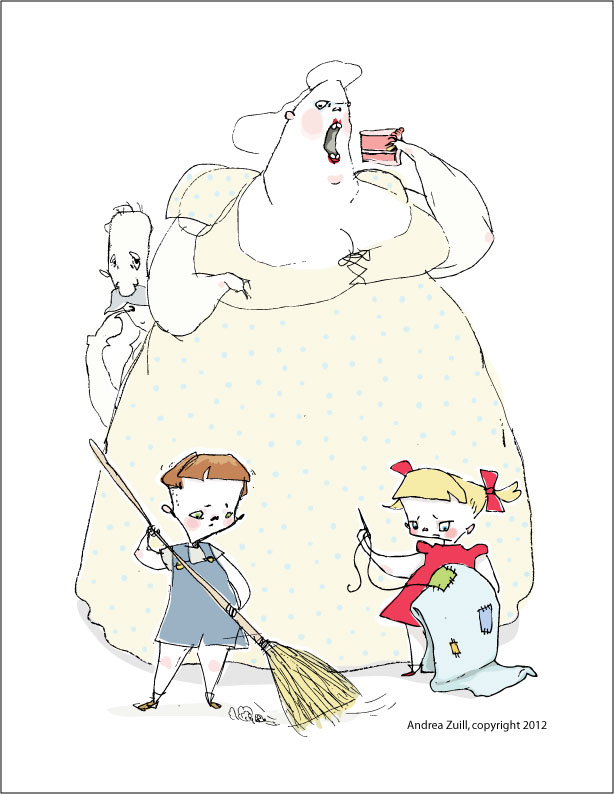 Let's begin by getting your mind and psyche in the right space.
If you use my tutorial I want you to:
Sketch a little bit everyday, for at least a month.
Allow the sketches to be crappy.  In fact, I give you permission to make crappy drawings.  How's that!
If you are sensitive about your work then don't allow anyone to see your practice sketches.
Repetition is more important than perfection with my tutorials.
Use bold long pencil strokes and give yourself permission to lose control.
When you let yourself lose control you are actually pushing your boundaries.  You are learning new things.
Here it is super quick:
You know those generic cartoon expression images  in "How to Draw Cartoons" books?  Copy them over and over until you've got them memorized.  Be able to draw them without looking at your samples. ( You can find a bunch of sites on-line that have these cartoon expressions.)
Now collect images by your favorite artist and copy them over and over.  And, while you're copying ask yourself questions like:  What makes this character  so cute?     How does this artist handle eyes or hair or the body?     How does this artist show emotions with his/her character's face and body language?  Study the art!
      3.   Draw your favorite artist's characters over and over until you can draw them by memory.
       4.   Now play! Sketch and sketch.  Make cute images, silly images, and sad images over and over. Don't second guess yourself.  Allow yourself to make horrible drawings.  Use idea's you've seen in other peoples work.  Or maybe start with another artist's character and change it.  Morph it into your own charater. Got a stupid idea?  Draw it.  Wind up drawing something you like?  Save it but keep drawing, and drawing, and….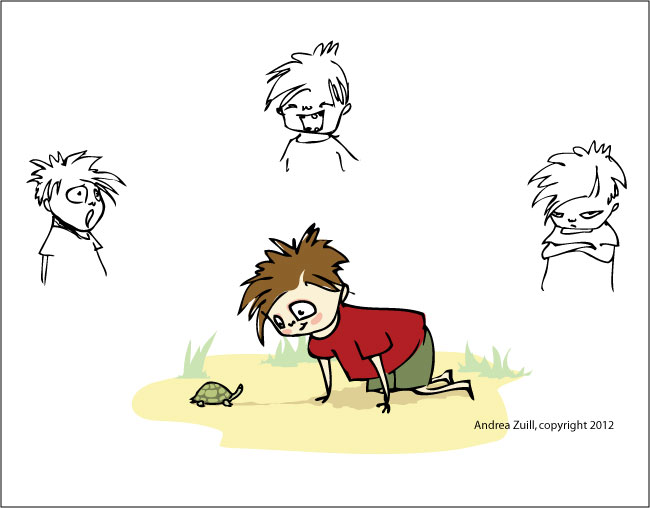 If you do these exercises you will learn a lot about the vocabulary of character design and at the same time teach yourself what you want to see in your own characters.          
Here are some of the people I have learned from:
Hyperbole and a Half – (This site proves that you don't need to be the most realistic artist to be awesome)    http://hyperboleandahalf.blogspot.com/
Patrick McDonnell – http://muttscomics.com/default.aspx
Bill Watterson – (He doesn't seem to have an official site)   http://www.gocomics.com/calvinandhobbes/
Peter Reynolds – http://www.peterhreynolds.com/dot/
Looney Toon Cartoons.  You can find many of them on YouTube.
Here are some of my favorites:
What's Opera, Doc? – (Sample ) http://youtu.be/KTYQmHr9Myg
Witch Hazel – (Sample)  http://youtu.be/gYtgsLnEl38     (Sample)  http://youtu.be/Wej1LoOzaLY
Drip Along Daffy – (Whole Cartoon) http://youtu.be/FhS-n9qpWRI