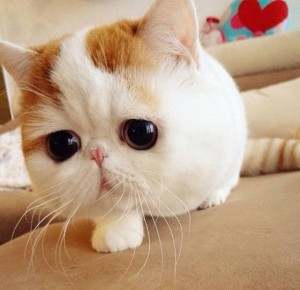 NOTICE:  I know most of you have seen these cats already but they're new to me and I lurve them.
Maneki Neko Lives!  Is this the ultimate cute cat or what?  I went through a bunch of this cat's photo's before I figured out that it IS a real cat.
More on this cat: http://lovemeow.com/2012/10/snoopy-the-cat-new-internet-sensation/
Oh, and his name is Snoopy.  Tee-hee!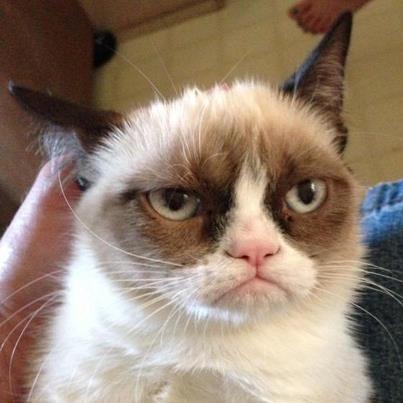 Grump cat.  Love the grump/pout look and the flat stare.  He actually has a under bite like a bulldog.
More images of the grump: http://www.dailymail.co.uk/news/article-2210654/What-sourpuss-Tardar-Sauce-Grumpy-Cat-latest-Internet-sensation.html
When a Sasquatch and a cat love each other very much, and they get-it-on, then you get this guy above.  He also looks kind of  Seuss-ish.
https://www.facebook.com/colonelmeowinthecity
Meet Frank and Louie, the two faced cat.  I don't even know what to say.  I do know that when this guy was born he was going to be put down.  But, a vet tech (I think that's what she was) decided to take him home and now he has  grown up to be a healthy cat…..that just happens to have two faces.
http://yourlife.usatoday.com/parenting-family/pets/cats/story/2011-09-30/Rare-two-faced-cat-lives-12-years-sets-record/50614516/1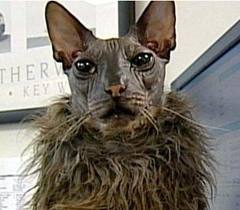 This unusual fella was part of a group of feral kittens.  I don't remember how many kittens there where in the litter, but this guy and one of his sisters where the only ones to have this look.  The sister was adopted by the veterinarian that was taking care of the litter,  but then she died (the cat that is).  The care givers for her brother decided to give him to the vet.  Now he is a greeter at his human's veterinary office.
His fur has grow out on his body in much the same pattern as a lion's mane. The rest is hairless.
Here is actual video of Mr. Bizarro Cat:     http://www.petstreet.co.uk/NewsStory/403885.Weird%20looking%20cat%20causing%20a%20stir