I bet you've been wondering once again, "Hey, where's that Andrea chick?".   Well, I've been busy making 98 puffy tissue flowers.
   You see, there are benefits to being the child of Andrea Zuill.  When you get married your Mom will design your invitations and create a guest book tree  for you (even though your Mom didn't know what that was until you told her.)
And, included on this tree is a quote from a Mumford and Son song.  Very romantic.
 I made 18 puffy flower decorations for the pews.  My Daughter designed the bunting.  We both sewed them together.
 Behold the glory of the puffy flower and ignore the toe.
 My Daughter created the fan folded rosette and cut the center circles.  I glued everything together and did the lettering.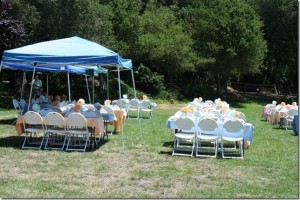 The reception including table cloths made from sheets purchased from Goodwill, burlap runners, and mason jar/popcorn filled/puffy flower decorations.
I am sorry to say that I don't have a real good photo of the tables.
 You can kind of see the decor in this photo.
 At the reception there was bubbles to blow and cartoons to color.
 I didn't shave my legs for the wedding but I made up for it with a caricature of my Daughter and her Fiance.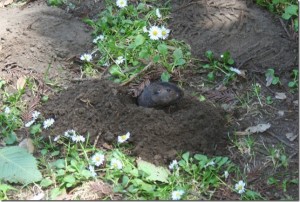 The most costly  part of the wedding was hiring the traditional wedding gopher.  Those guys don't come cheep.
     So everything was handmade for this wedding with the exception of the wedding dress and gear.  But, the bride did glitter her own shoes.  I might post a picture of them if I can find a good photo of them.  They were glittered thank's to Martha Stewart and her glittering supplies.
p.s. – By the end of the reception the wedding gopher got drunk.  It was a no booze affair so apparently he bought his own.  He had to be escorted of the premises.