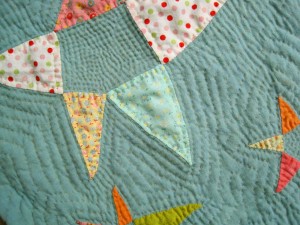 As most of you know, one of my favorite quilt artists is Silly Boodilly.   Her Work Quilts are my favorites. Not only are her designs wonderful but so is her choice of fabric. 
I tend to be pretty basic when it comes to cloth, but I love the cloth in Boodilly's quilts so much that I decided to purchase some for myself.  The fabric that she uses is Shot Cotton.  The warp and weft of shot cotton are two different thread colors which adds depth to solid fabrics.  I bought a small selection Kaffe Fasset Shot Cotton quite a while ago at Harts Fabric, in Santa Cruz, CA.  I just didn't know what to make with the fabric.
I decide to try a  a small quilt using the Shot Cotton.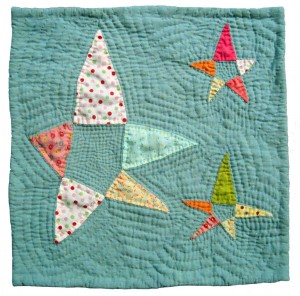 This quilt is very small, approx. 20″ x20″.  Similar to paper collage, I just cut out shapes, layed them out until I was happy, then stitched them onto  the foundation fabric.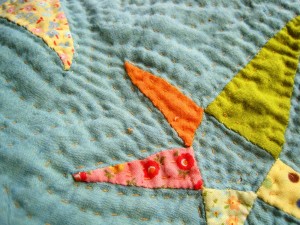 For this quilt I didn't want raw edges so I needle turned the edges and appliqued the shapes to the background.
Everything on this quilt is hand done.  The Shot Cotton became very soft and slightly aged after one washing.  I really like that. I want my work to look handmade and the Shot Cotton helped with that look.
I think I might sell this quilt.
PS- Check out the latest issue of Quilting Arts Magazine (October/November 2010) .  The Silly Boodilly (aka Victoria Gertenback)  has a article on how to make Boro Bobbles, which she makes using scraps of Shot Cotton.