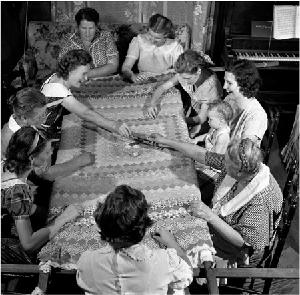 In general, people that craft are one of the most accepting and giving of all the creative communities.  But, with quilters there can be divisions.  Some Art Quilters don't understand the precise corner matching of the Tradition or Kit Quilters.  Some Machine Quilters don't understand why Hand Quilters would want to spend hours and hours, months and months creating a quilt.
Quilters of a different style from you often will ask why you quilt the way you do. Your answer tends to cause their heads to tilt like a confused dog. I have found that if you give your quilting technique an official title people back off, because it's official for gosh sakes!
Here is my list of quilting types and their official titles:
1. Traditional Quilt Crafts Person – TQC Person carries the heavy load of keeping the historic form of quilting alive.  They save traditional quilting from dying out.  It's a burden they must bare for the sake of everyone.
2. Kit Quilters – Kit quilters not only use kits but love magazines that have quilt tutorials.  Their job is to honor quilt designers by creating their quilts using precision and superb color matching. 
3. Machine Quilter – The quilting culture is a living culture.  Machine Quilters are wise to the fact that their ancestors jumped at the chance to use sewing machines to piece their quilts.  They nod to the past with their precise corner matching and the fact that they can finish a king size quilt in a month without the need of a quilting bee.  Their ancestors would be proud.
4. Hand Quilters – Modern hand quilters practice the semi religious form of self flagellation by stitching everything with needle and thread. To appease the ancient gods of craftiness the hand quilter keeps sewing even when faced with a mean case of carpel tunnel, a bible bump and the beginning symptoms of arthritis. 
5.  Art Quilter – Art quilters use the craft of quilting as a form of self expression.  Weird themes, imagery, colors and materials form the bases for the art quilters artistic voice.  The art quilter is more interested in self expression than perfect stitches.  Art quilters tend to not be able to match corners if their life depended on it. 
6.  Folk Art Quilter– Folk Art Quilters are very close to Art Quilters.  What makes a Folk Art Quilter is simplistic expressive designs and the inability to make even stitches.  Flaws are acceptable, they're Folk Artists for goodness sakes. 
7.  Outsider Quilter – Have you have ever felt the urge to create a quilt out of tires and bubble gum? Then you know where Outsider Quilters are coming from.  An Outsider Quilter often thinks like this, "Lets see, I don't have any fabric, needles or thread to create a quilt with, but I wouldn't want to use those materials anyways because I have a perfectly good jar of peanut butter and a whole bale of barbwire to work with."  Outsider Quilters are often unaware that other quilters don't think of kitty litter as being a good batting.
8.  Contemporary Avant Garde Quilter – Same as Outsider Quilter but with an education.
9. Visionary Quilter – Have you ever been quilting with a mouth full of M&M's and sneezed, only to have the spray from your sneeze create a image on your quilt that looks like Jesus?  If you have then you are a Visionary Quilt artist.  You are also always under the distinct feeling that it's not you that is guiding your quilting, but God.
Let's face it, the lines of quilting types are often blurred.  There are Hand Quilters that can match corners and might add a bit a tree bark to their quilts.  There are Traditional Quilters that that will periodically use a machine to quilt their quilts.  What's great about quilting is the many techniques to explore, the appreciation of  textiles (whether it's fabric, wood, steel or otherwise), the concept of quilting, the room for play, experimenting and the fulfillment of the need to create. 
I guess what I am trying to say is that all creation is great and if it makes you happy that's all that counts.