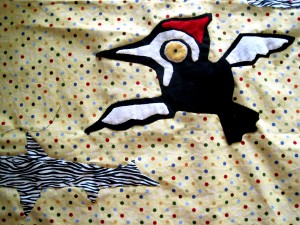 These are not very good photographs.  It's a bit gloomy out today and I try to photograph my quilts using natural light.  I hate using my flash when photographing, it flattens things out.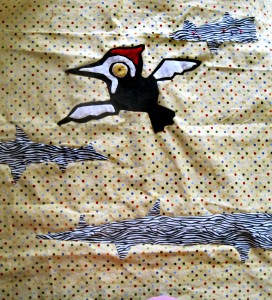 I love woodpeckers and I love the black and white fabric that I used to make the branches out of.  I want more color in this quilt so I will probably add some colored circle elements and maybe even some leafs. 
This is how I came up with the design for my woodpecker. 
  I knew that I didn't want a literal image of a woodpecker.   I Googled Woodpecker Art to see how other artist had portaited this bird. 
  This is a detail of a James Audubon print of Pileated Woodpeckers.  It's beautiful but to realistic for my needs.  One thing this print does show is Woodpeckers in a pose where they are not stuck to a side of a tree.  I wanted my Woodpecker to be like that.
I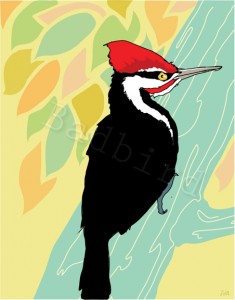 Here is my Woodpecker print.  And, oh yes, he is stuck to the side of a tree.
I wanted my woodpecker to be a bit cuter.  I remembered a site called Birdorable.  All their birds are extra cute.  They have a woodpecker or two which helped me decide how I wanted to increase my woodpeckers cuteness.
http://www.birdorable.com/
You will notice that my woodpecker looks nothing my Birdorable's or Audubon, but each image gave me enough info to create my own woodpecker image.
PS – YOu should really check out Birdorables site.  I think I might have to buy one of their t-shirts!