Okay, you guys better be nice to me about this quilt.  It's doesn't have a bird, deer or heart in.  It's a abstract.  I love it and if you make fun of it I will find you and pinch you real hard.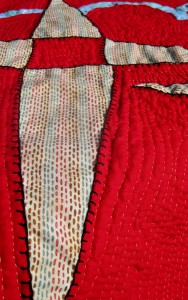 I am thinking of doing more of these.  It was so freeing.  Just shapes and colors.
  The only embroidery is around the stars.  I outlined them with a black blanket stitch.
  This quilt is made of cotton and it totally hand sewn including the quilting.  It measures 20″ x 30″.  You can get really good views of this quilt if you click on the images.
The shapes are based on doddles, and shapes I have found in hex signs.