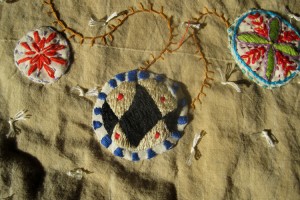 Notice the background fabric?  It's the same background fabric from the embroidered piece in the last blog entry.  I love this fabric.  It's Aged Muslin .  The company that manufactures it only has it in colors of off-white, tan, etc…
   I would love to find someone that makes aged color fabric.  I know I can age it myself, but I don't want too.  You can't make me.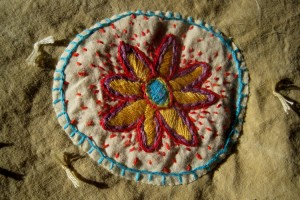 More hex signs.  
  This hex looks Japanese to me. 
Oh, I almost forgot.  All of the embroidery was actually stitched on a light colored muslin.  I embroidered these pieces on my last vacation.  When I got home I cut them out and appliqued them to the darker aged muslin.
  This includes the magpie. It was also stitched on light colored muslin and appliqued onto the darker muslin.  Why would I do this technique?  Well, I didn't want to carry a whole bunch of stuff with me on my trip.  All I brought with me was the one piece of fabric, embroidery thread, needle, scissors and a pencil.  All the hexes where drawn freehand onto the muslin in pencil.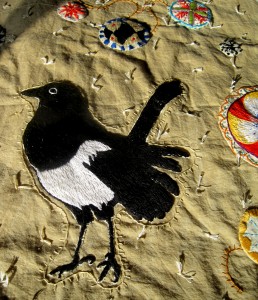 I wasn't in the mood to do the quilting this time.  I chose to tie this quilt off.  I used embroidery thread for the tying.
   This was a rather easy quilt to put together.