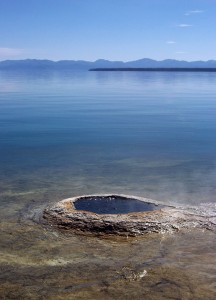 Part of our trip we stayed at Yellowstone National Park. 
  Yellowstone is one of the few places that has a very distinct smell.  Some say it smells like rotten eggs, others say farts.  I think it smells like hard boiled eggs.
  A large part of Yellowstone is inside a large volcanic cauldera.  I guess the whole place blew up a few thousand years ago.   What is left now are hot spots where lava is close enought to the surface to cause geysers and such.  They have earthquakes there almost every day.  Large earthquakes can cause changes to the thermal structure of Yellowstone.  This causes changes to the geysers, mud pots and hot pools.  The walk ways around the geysers are wooden and mobil.  They can move the location of the walkways to accomodate the changes of the thermal sturctures.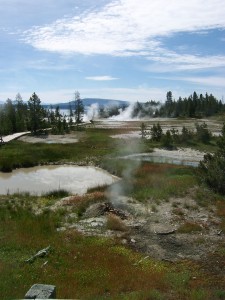 I think I like Yellowstone because it is wild and dangerous.  I know that there are places that are more wild and dangerous, but it is so condensed at Yellowstone with high concentrations of thermal activity, and wildlife .  I like my nature to have a bit of a bite to it. 
PLEASE Click on the images to see them at full size, it's very beautiful there.