Archive for June, 2009
Saturday, June 27th, 2009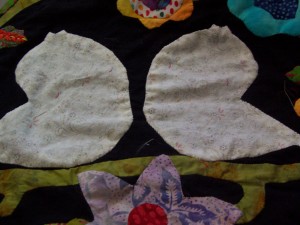 I hate when I do this.  The unfinished Love Bird on the right has it's grain going in the wrong direction.  Or should I say the bias is wrong.  You can't tell from this photo but the bird on the left lays down nicely.  The bird on the Right doesn't lay down flat and looks as if it has too much fabric and seems puffy.  I hope that makes sense.
   I can't find the material I used for the birds, so I will remove both birds and stitch on new birds, with the correct bias, onto the quilt.  I have a cream colored fabric with very small pink and burgundy polka dots that will look nice.
  I am using the fishbone or herringbone stitch on the leaves.  I haven't used that stitch for a long time.   I thought it needed more of a stem down the middle of the leaf so I wove a yellow running stitch down the middle.  If you look close you will see small blue running stitches used for extra leaf veining.  The green fabric has a fushia design printed on it.  All together it makes for a very busy leaf.  I will not be outlining the leaves.
This is not a very funny post, so I have a joke. 
A man was walking down the street.  As he was walking he came upon a blind man with a seeing-eye dog. Suddenly, the blind man picks up his dog by it's back feet and begins swing him around his head.  The man says to the blind man, "What are you doing to your dog?".  The blind man replies, "Oh, I'm just looking around".