Yes, I can make a hand sewn, appliqued quilt in one day. I didn't start this quilt with time in mind, but as I progressed I could see that it would in fact be finished in one day. I knew I wanted to work small because I enjoyed creating the sample for my quilting class, ie The Black Bird Quilt.
In making a quilt in one day it helps to have an old drawing of a titmouse already to use.
It also helps to have just purchased a rose print fabric, in which you can cut the flower and stem out and then applique onto you quilt.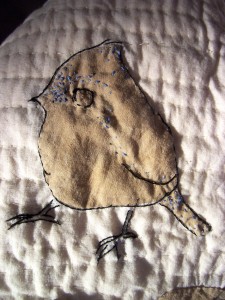 I used a single embroidery thread to help make the ouline of the titmouse look like the sketched line. 
This tiny quilt measures 12″ x11″.  This size just happened since I do not plan my quilt sizes before I begin creating them.  If it needed to be functional it could be either a very big coaster or a very small placemat.