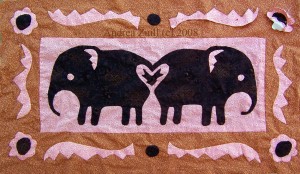 This is the new quilt that I am working on.  It's very small measuring 21″ x 38″.   This quilt has less design elements than most of my other quilts.  There is still a lot of work to do on this piece.   Besides finishing the applique in the upper right hand corner, I need to add the embroidery. 
For the embroidery I purchased a rainbows worth of muted color thread.  Right now the quilt feels to matchy and I hope that adding the various colors of the embroidery thread that the quilt will pop.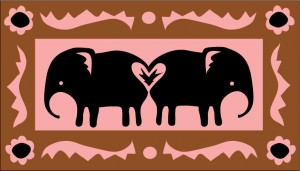 This is the original design that I put together in Adobe Illustrator.  I don't always use the computer to design my quilts, but sometimes I like the instant satisfaction of not only being able to draw what the quilt will look like but being able choosing and changing colors with ease.  I sometimes have trouble picturing colors for my quilts in my head.  The computer helps me visualize how the colors may look.