I just finished my Black Rabbit quilt.  This quilt was much simpler than my other quilts.  The two things which made it simpler are it's size, 24″ x 30″, and there is less embroidery.  After finishing my Snake in the Grass quilt I needed a easier project.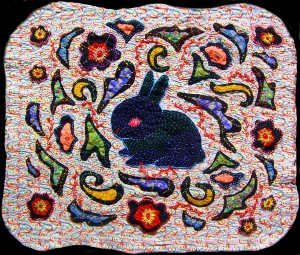 My friends tell me that this quilt has the most folk art of all my quilts.
  Like the rest of my quilts, this quilt is appliqued and embroidered.   If you click on the images you will see that I didn't embroider much on the edges of the applique like in my other quilts.