The basics of embroidery are fairly simple.  As soon as you learn to adjust your thread tension and master a few stitches you're off and running.  There are tons of vintage style patterns and more and more people are putting together modern designs.  But, most people don't think much about their approach to an embroidered project except to outline the image and throw in a few french knots, or lazy daisy stitches to finish their project.
  But let's consider line quality, texture and shading.  The smaller the design the fewer threads you should use to outline an object.  If the design's outline in intricate and detailed, play around with single and double thread stitches which will help you retain the detail.  I love to use the Stem stitch since it adjusts well to heavy or thin lines.  If I want a heavy stitch the chain stitch works very well.  So, if you have ever finished a piece and thought that it looked too "clunky", remember that maybe a thinner line would have worked better.
    Texture and shading kind of go hand and hand for me.  I often use a seed or seed like stitch to shade an image.  This automatically gives me texture.  Shading should be done with a light hand.  I stay away from using large stitches or extremely dark colors unless it the art really calls for it. 
   Take a look at how I have handled my line quality and shading in the pictures below.  On the first piece (Red Bird) I used the seed stitch  on the bird to suggest form and continuation of color on the bird body, versus filling the whole body with stitching. I used a simular technique of the branch. On the bird's eye, since I didn't want to fill the eye in black or make it completely white I used the seed stitch to get a happy medium.  The background stitches give movement and texture to the background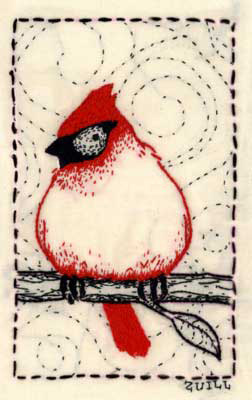 This next piece has a lot of shading, both on the bird and the banner.  On the body of the bird the shading is done in broken lines that are the same color as the outline of the bird. Yet, on the banner the shading worked better being a different color from the outline.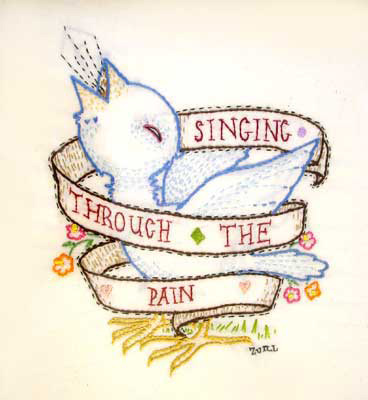 This is what I do, but you should experiment to come up with your own vision of how your art should look.